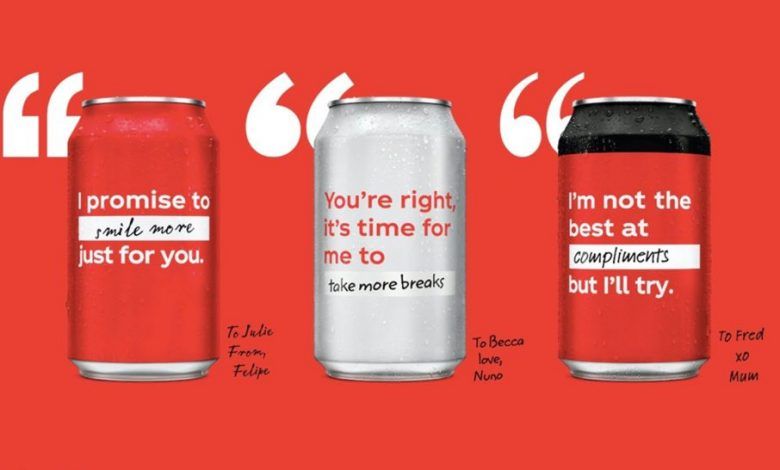 É um dos logotipos de marca mais reconhecíveis do mundo, mas você não encontrará o logotipo da Coca-Cola em qualquer lugar na frente das novas latas da empresa. Como parte de uma nova campanha de marketing projetada para inspirar positividade e mudança, a marca acabou com seu icônico logotipo inteiramente, substituindo-o por resoluções "inspiradoras" para 2021.
Já à venda na Europa, as latas de edição limitada do material marrom apresentam mensagens edificantes como "Prometo sorrir mais só para você", e "Não sou o melhor em elogios, mas vou tentar", e os fãs podem até personalizar seus próprios designs online.
Criada pela 72andSunny Amsterdam, a campanha "Open to Better" foi projetada para transformar a lata de Coca-Cola em um "humilde gesto de apreciação". O gerente de marketing gb da Coca-Cola, Bryony Lester, disse em um comunicado à imprensa que a empresa pretende "usar o poder de nossas embalagens para compartilhar resoluções de esperança e positividade que esperamos que os fãs gostem de compartilhar com seus amigos e familiares".

Na página da Coca-Cola 'Open to Better',os usuários podem personalizar suas próprias latas com mensagens inspiradoras, ou mesmo comprar latas com resoluções de celebridades. Katy Perry, por exemplo, promete: "Prometo meditar". (Dedos cruzados para você, Katy).
A Coca-Cola diz que as mensagens nas latas disponíveis na loja foram "inspiradas pelos fãs da Coca-Cola em toda a Europa". A empresa fez um apelo para que as pessoas compartilhem suas resoluções mais divertidas ou inspiradoras, e em troca recebeu "uma série de histórias leves, autênticas e pessoais que mostram como pequenos atos e gestos podem nos dar esperança de um futuro melhor". Algumas dessas histórias podem ser ouvidas no vídeo de acompanhamento da campanha (abaixo).
Embora possa ser preciso mais do que uma lata alegre de Coca-Cola para animá-lo após os eventos do ano passado, é uma campanha agradávelmente positiva da empresa – e uma prova do design icônico das latas vermelhas que eles permanecem imediatamente reconhecíveis sem logotipo.
Mas, embora acabar com o logotipo possa parecer um movimento surpreendentemente ousado, esta não é de forma alguma a primeira vez que o vemos feito. No ano passado, a Kit-Kat removeu seu logotipo na tentativa de incentivar a reciclagem. Agitar um design familiar pode ser o marketing de ouro.