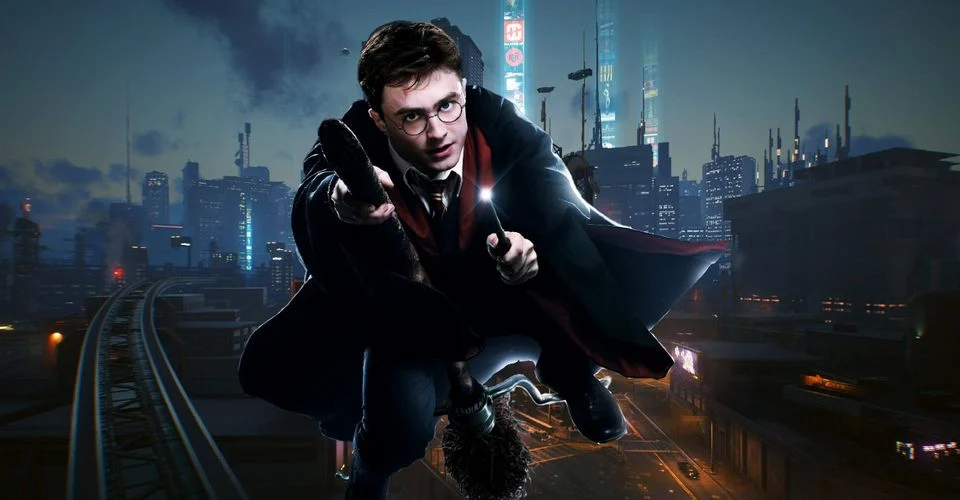 Um divertido, embora um tanto provocativo, o easter egg de Harry Potter foi descoberto escondido nas ruas da Cidade Noturna de Cyberpunk 2077.
Um jogador de Cyberpunk 2077 descobriu um divertido easter egg de Harry Potter escondido nas ruas de Night City. Enquanto Cyberpunk 2077 é mais famoso por seu lançamento desastroso, os jogadores ainda estão gostando de explorar o vasto mundo de Night City e descobrir seus muitos segredos. Às vezes, essas descobertas podem levar a mais informações sobre os personagens dentro de Cyberpunk 2077, como um grafite recentemente surgido sobre Jackie Welles, enquanto outros são apenas pequenas inclusões divertidas da CD Projekt Red.
CD Projekt Red, apesar de uma batalha considerável, tem trabalhado duro para levar Cyberpunk 2077 até o padrão que os jogadores esperavam antes do lançamento. Infelizmente para os desenvolvedores, esta não tem sido uma tarefa pequena. Junto com a infinidade de correções necessárias para o jogo, a empresa também foi vítima de um ataque cibernético de alto perfil em fevereiro. O resultado deste hack viu códigos para The Witcher 3 e Gwent vendidos em um leilão online. Em seguida, seguiu-se um atraso nas correções de Cyberpunk 2077, o que causou mais aborrecimentos entre os proprietários da Cyberpunk 2077. No entanto, apesar desse atraso, um patch recente para Cyberpunk 2077 procurou corrigir mais de 500 problemas. Estes incluíam classificar a mecânica de condução no jogo e mudar a maneira bizarra que o protagonista V dormia, que parecia tudo menos confortável. Outro patch foi disponibilizado hoje, o que deve corrigir ainda mais os problemas restantes do jogo.
Mas bugs, patches e falhas à parte, Cyberpunk 2077 sempre ofereceu aos jogadores um vasto mundo aberto para explorar. E dentro desse mundo há muito para descobrir, incluindo um aceno divertido para O Menino que Viveu. O usuário do Reddit thesailorscout compartilhou uma captura de tela de sua própria jogabilidade de Cyberpunk 2077, que mostrou um easter egg inconfundível de Harry Potter dentro de Night City. Grafite espirrado na lateral de uma parede diz "Plataforma 69 3/4" com mais roteiro encorajando o jogador a "Hit here" com duas mãos esqueléticas apontando para baixo e para dentro. Esta é uma clara (se um tanto sugestiva) referência à Plataforma 93/4 nos livros de Harry Potter, um portal que atua como uma porta de entrada entre o mundo trouxa e a plataforma de embarque para o Expresso de Hogwarts.
You guys, I finally found it. Followed a sprinting NPC right to it. Platform 69 ¾. from r/cyberpunkgame
Cyberpunk 2077 não é o único lançamento recente a ter um easter egg escondido de Harry Potter incluído dentro da jogabilidade. Assassin's Creed Valhalla possui uma sala temática de Harry Potter em Lunden (o antigo nome para Londres). Aqui, os jogadores podem encontrar referências aos sete horcruxes de Voldermort, bem como banners representando cada uma das casas de Hogwarts.
Espero que com o tempo os desenvolvedores envolvidos com cyberpunk 2077 levarão o jogo a um ponto onde ele será jogável para todos os usuários da plataforma (e talvez se torne disponível na loja playstation mais uma vez). Mesmo com seus muitos problemas, ainda há muito o que amar sobre cyberpunk 2077, como os muitos easter eggs esperando para serem encontrados. É uma grande pena que o jogo tenha sido lançado em um estado tão pobre, pois mantém tanta promessa que muitos infelizmente ainda são incapazes de realizar.