O Falcão e o Soldado Invernal episódio 5, "Verdade", está absolutamente repleto de easter eggs, e introduz um novo personagem marvel no MCU.
Falcão e o Soldado Invernal episódio 5 está absolutamente repleto de easter eggs do MCU, incluindo a introdução de um novo personagem sinistro da Marvel Comics. Por mais que Falcão e Soldado Invernal possam ser, às vezes não parece que deveria ter sido uma série de TV; onde é impossível imaginar WandaVision como qualquer outra coisa além de uma sitcom de super-heróis, este show tem se sentido muito como um filme do MCU exibido em um formato episódico. Mas tudo isso muda no episódio 5 de Falcão e Soldado Invernal, que aproveita esse formato para dar tempo aos seus personagens de respirar e refletir que eles provavelmente não entraria em um filme.
O episódio anterior terminou em um cliffhanger, com John Walker estalando e brutalmente matando um dos Flag-Smashers. Após a morte, Sam e Bucky tiram Walker do escudo do Capitão América e ele não está disposto a cair sem lutar. É uma medida de quão longe Walker foi que ele claramente tenta os mesmos golpes de matar contra Sam e Bucky, mas no final mesmo o soro super-soldado não é suficiente para ajudá-lo a vencer dois Vingadores experientes. Esta abertura repleta de ação, então segue ordenadamente em um episódio mais medido e reflexivo no qual cada personagem – herói e vilão – luta para lidar com as consequências do que aconteceu na Letônia.
Falcão e o Soldado Invernal episódio 4 era relativamente leve em ovos de Páscoa, dado que era mais cheio de ação. No entanto, o ritmo mais lento do episódio 5 significa que ele tem tempo para cair bastante alguns. Aqui estão todos os ovos de Páscoa e referências de quadrinhos.
O Título Do Episódio "Verdade"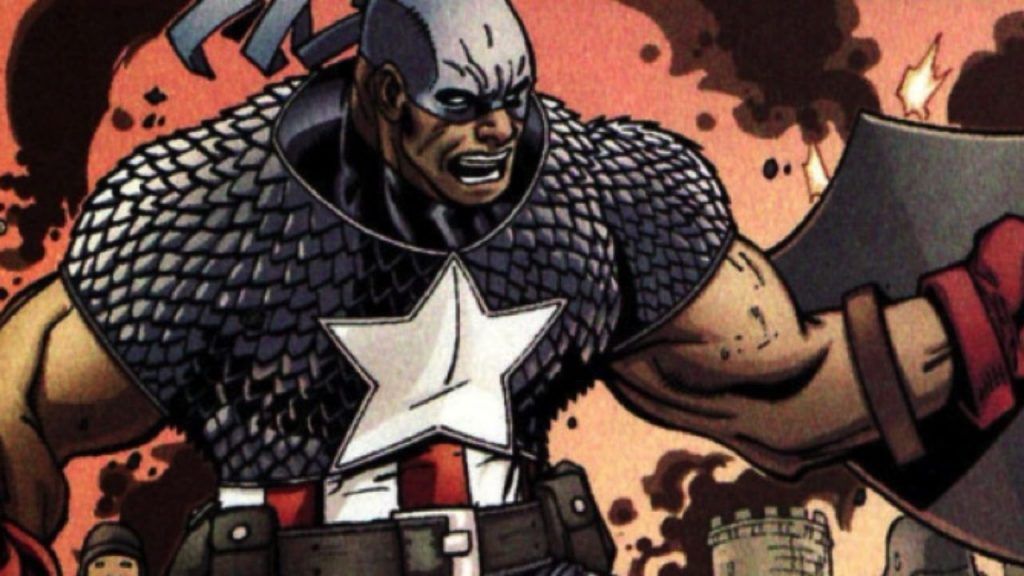 O título do Falcão e o Soldado Invernal episódio 5 é em si um ovo de Páscoa, e qualquer um familiarizado com os quadrinhos teria imediatamente sabido que contaria com o retorno de Isaiah Bradley. O super-soldado esquecido foi originalmente criado na inovadora minissérie de Robert Morales, Truth: Red, White and Black, em 2003, em uma história inspirada no famoso Estudo Tuskegee, no qual homens negros foram secretamente expostos à sífilis. Morales realmente pensou que seu discurso seria muito escuro para a Marvel, mas eles foram com ele. A minissérie foi inicialmente controversa porque teceu um fio de preconceito radical na história do Capitão América, mas a escrita inteligente de Morales conquistou os críticos. Como o então editor-chefe Axel Alonso disse à CBR: " No momento emque a história foi feita, o diálogo em torno da série tinha mudado substancialmente. Um crítico de alto nível até escreveu uma coluna admitindo que ele tinha injustamente pré-julgado a série, que ele agora viu que era sobre construir pontes entre as pessoas, não queimá-las – o que eu respeitei profundamente. É especialmente significativo quando você edita uma história que funciona como um pouco mais do que entretenimento puro."
Configuração Sutil Para O Próximo Falcão
É fácil de perder, mas um detalhe importante no Falcão e o Soldado Invernal episódio 5 é que Sam Wilson deixa suas antigas asas falcões com seu amigo Primeiro Tenente Joaquín Torres. Esta pode muito bem ser uma configuração importante porque nos quadrinhos Torres se tornou o segundo Falcão. É certo que a versão dos quadrinhos foi transformada em um híbrido humano-pássaro pelo Power Broker e tem asas reais crescendo fora de seu corpo, então este seria um Falcão II mais aterrado.
Apresentando A Contessa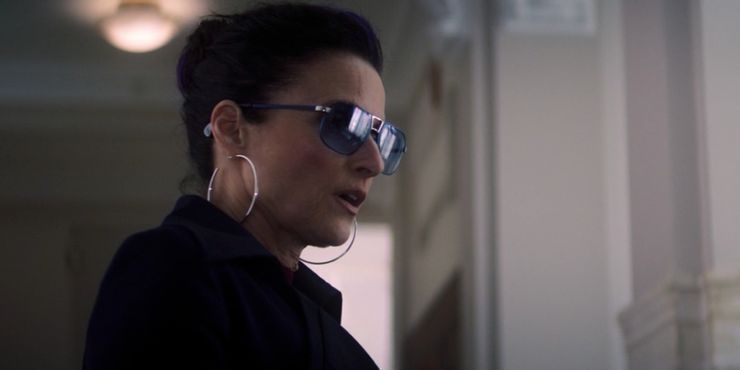 John Walker é destituído da identidade do Capitão América. Logo depois, ele é abordado por Contessa Valentina Allegra de Fontaine, personagem levantada diretamente dos quadrinhos. A Contessa é uma figura importante na história de espionagem da Marvel, o amante de Nick Fury, e é fácil imaginá-la se tornando a versão do MCU de Amanda Waller e montando uma equipe de super-humanos como os Thunderbolts. Nos quadrinhos, a Contessa tem sido ligada a organizações como Leviatã e Hydra, tornando-se até mesmo Madame Hydra por um tempo. Ela foi finalmente revelada ter sido uma agente russa adormecido o tempo todo e está atualmente na cadeia. Ela provavelmente não é confiável, e se Walker lhe der uma ligação, ele vai se envolver em alguns negócios muito obscuros, de fato.
Monumento De Sokovia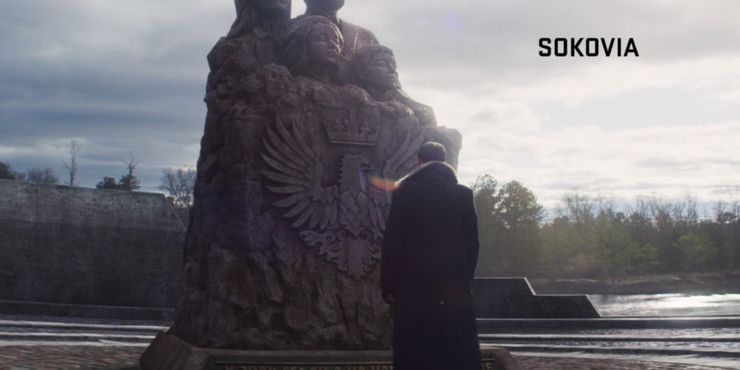 Zemo pode ter escapado em Falcão e o Soldado Invernal episódio 4, mas não foi difícil para Bucky deduzir para onde ele iria: o Monumento de Sokovia. A versão do MCU de Zemo é motivada inteiramente pela destruição de Sokovia em Vingadores: Era de Ultron, e diálogos anteriores haviam estabelecido que ele queria ir visitar o memorial. O confronto entre Bucky e Zemo é um terse, ajudando a fornecer encerramento para ambos os personagens como Zemo diz a ele que ele cruzou seu nome no caderno de Bucky.
Zemo Está Sendo Levado Para A Balsa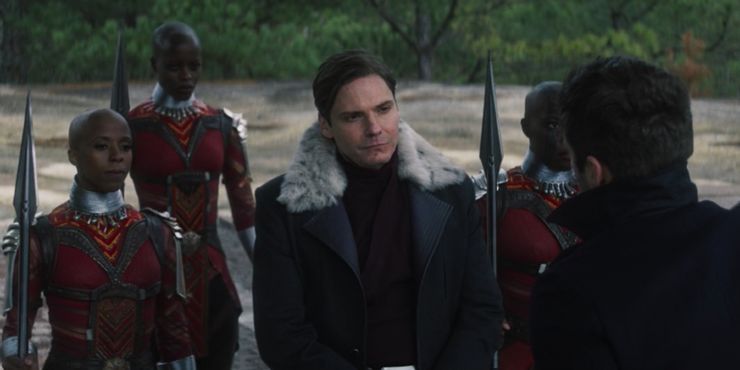 A Dora Milaje declara sua intenção de levar Zemo para a Balsa, a prisão de segurança máxima para os super-humanos introduzido no Capitão América: Guerra Civil. Eles continuam a política do Pantera Negra de deixar Zemo viver, embora agora esteja claro que eles pretendem que ele nunca mais escape; a facilidade com que Bucky o tirou de sua cela sugere que apenas a jangada pode contê-lo.
O Grupo De Operações Expedicionárias 332D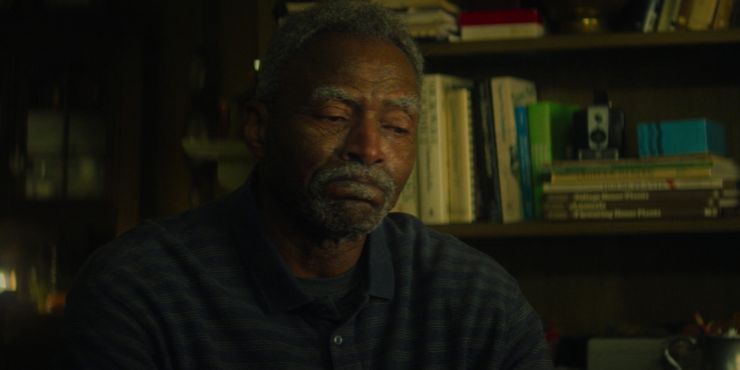 Os dois primeiros episódios de Falcão e Soldado Invernal brincaram com a história americana de preconceito racial e a questão de se os EUA estavam prontos para um Capitão América Negro, mas eles não se comprometeram. Esse fio narrativo em particular é finalmente captado na conversa de Sam Wilson com Isaiah Bradley, na qual eles refletem sobre a longa história de racismo da América. Há uma referência ao Grupo de Caças 332d, constituído em 1942 e predominantemente tripulado com militares negros. Eles estavam baseados em Tuskegee, o infame campo que conduzia experiências secretas em soldados negros.
História De Isaiah Bradley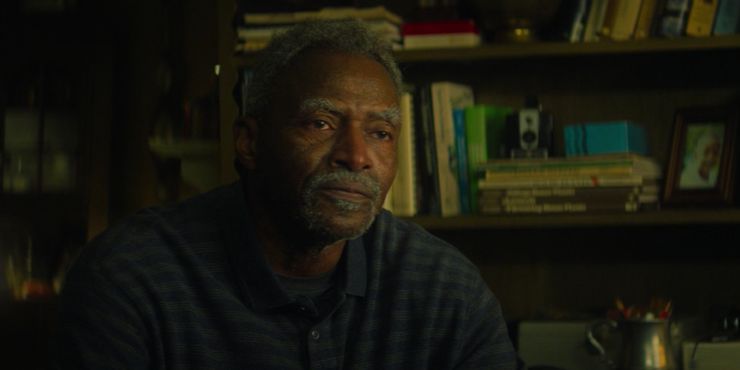 Isaiah Bradley revela sua história de fundo para Sam, chocando o Vingador até o núcleo quando ele percebe que ele também pode ter quebrado se tivesse suportado o que Isaías passou. A história de origem do super-soldado esquecido foi um pouco mudada, com Bradley participando da Guerra da Coreia em vez da Segunda Guerra Mundial, e um elemento crucial foi omitido: a ideia de que ele ousou usar uma fantasia de Capitão América. Fora isso, porém, a história que Bradley conta parece um simples esboço da minissérie Truth: Red, White and Black de Morales. Provavelmente há duas razões para a alteração. Muito tempo se passou para Bradley trabalhar como veterinário da Segunda Guerra Mundial, então foi necessário ajustar a linha do tempo e ligá-lo a outros conflitos. Enquanto isso, a Marvel quer claramente que Sam Wilson seja o primeiro Capitão Negro da América no MCU.
As Novas Asas De Sam São Wakandan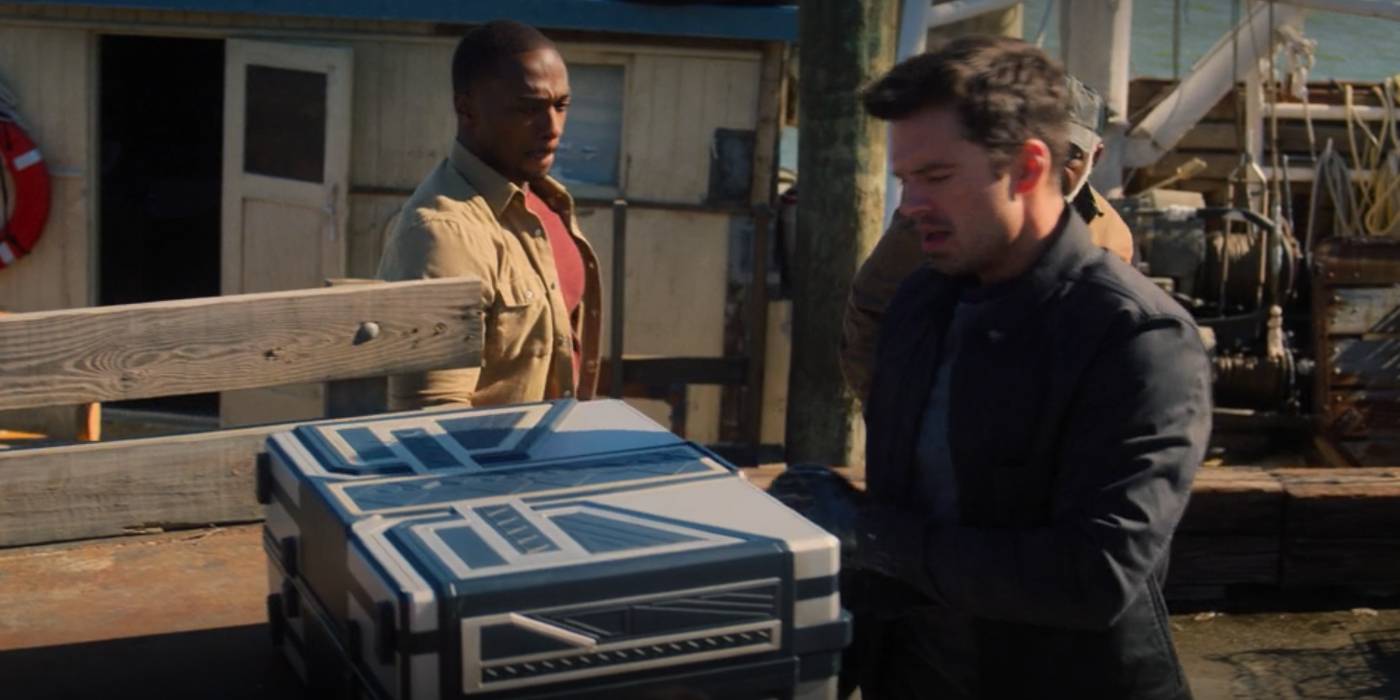 Bucky deixa um novo conjunto de asas e possivelmente uma fantasia para Sam, presumivelmente forjada como parte do acordo em que ele entregou Zemo ao Dora Milaje. Como as velhas asas de Sam, elas são armazenadas em uma maleta, embora note que o esquema de cores claramente aponta para serem as asas do Capitão América em vez de tecnologia Stark. Dado que estes são Wakandan, é razoável supor que eles serão muito mais avançados do que os Falcão costumavam voar, e eles também serão feitos de Vibranium.
Um Dos Sobrinhos De Sam Usa Cores Falcões
Sarah não é a única que está orgulhosa de Sam Wilson. Em uma cena posterior, um dos sobrinhos de Sam pode ser visto usando cores falcões – quando ele está tocando o escudo, nada menos. Isso não é coincidência, sugerindo um grau de adoração ao herói e também que essas crianças estão tranquilamente confiantes de que seu tio Sam deve se tornar o Capitão América. Sem dúvida, ficarão encantados quando ele for para o céu nas estrelas e listras.
"Steve Me Disse O Que Estava Planejando"
Falcão e Soldado Invernal faz alusão a uma conversa invisível entre Steve Rogers e Bucky na qual Steve disse ao seu amigo que pretendia ficar no passado e voltar para dar o escudo a Sam. Isso contextualmente faz sentido, como em Vingadores: Ultimato Steve e Bucky pareciam estar cientes de que estavam se despedindo, e Bucky sabia que estava cuidando de um Steve mais velho quando Hulk era incapaz de trazer o Capitão América de volta. Presumivelmente, Steve deu ao Bucky seu antigo caderno como parte deste momento fora das câmeras.
Ainda assim, o comentário de Bucky não é apenas um retcon inteligente. Também aponta para um vínculo mais forte entre Sam e Bucky do que a maioria dos telespectadores perceberam que existia porque significa que Bucky fez parte da decisão de Steve de escolher seu sucessor como Capitão América. Além disso, note que isso não é novidade para Sam, o que significa que os dois falaram sobre a despedida de Bucky para Steve longamente.
O Meme "Faça Um Rolo De Barril"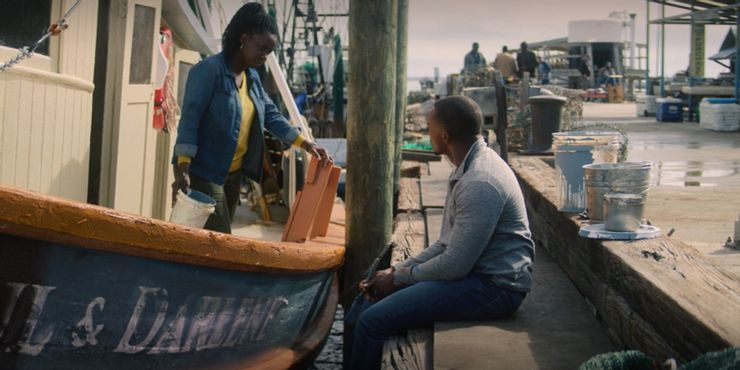 A irmã de Sam, Sarah, é hilariantemente desconsiderada da carreira de super-herói de seu irmão, zombando dele fazendo referência às suas atividades como "fazendo um rolo de barril ". O meme do lançamento do barril remonta a 1997, quando o jogo de console Star Fox 64 incluiu uma ordem para "fazer um rolo de barril" enquanto se aproximava de quatro torres estacionárias disparando lasers. Sam, é claro, fez muitos papéis de barril enquanto servia como vingador, então Sarah não está realmente errada. Ela mais tarde insiste que está orgulhosa do Sam mesmo assim.
O Retorno De Batroc
Batroc, o Saltador, é um vilão de baixo nível do Capitão América nos quadrinhos, mas ele está se tornando um grande inimigo recorrente no MCU. O Batroc do MCU foi introduzido no Capitão América: O Soldado Invernal, quando liderou um grupo de agentes da Hydra na captura da Estrela De Lêmia; ele acabou indo cara a cara com Steve Rogers, e não foi bem para Batroc. Ele retornou no primeiro episódio de Falcão e o Soldado Invernal, agora trabalhando para um grupo terrorista chamado LAF, e não provou ter mais sucesso em vencer Falcão. Ele agora está procurando vingança, e disposto a fazer um acordo com Karli Morgenthau para obtê-lo. Ele também aparentemente relata a Sharon Carter, que ajudou a tirá-lo de uma prisão de Argel.
John Walker Está Se Tornando Agente Dos EUA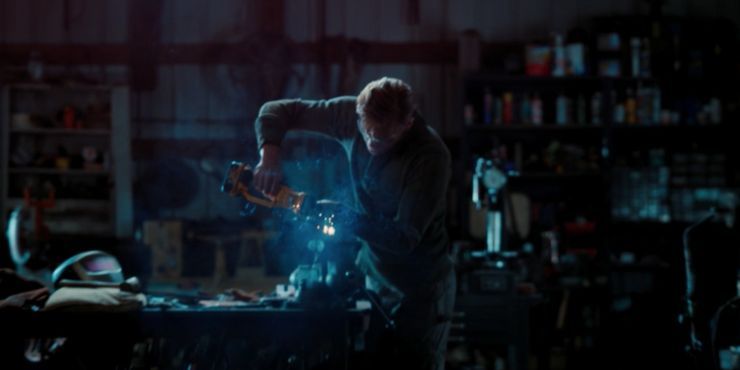 Falcão e o Soldado Invernal episódio 5 termina com uma cena inesperada pós-créditos em que John Walker forja um novo escudo. Nos quadrinhos, Walker foi forçado a abandonar a identidade do Capitão América e se tornar o agente dos EUA. A cena pós-créditos do Falcão e o Soldado Invernal não sugere que ele está pronto para fazer isso no MCU ainda, porque ele pinta o escudo no mesmo esquema de cores brilhantes que o Capitão América. Ele pode ter sido rejeitado pelo governo dos EUA, e por Sam e Bucky, mas Walker ainda acredita que ele é o homem certo para o trabalho de Capitão América. Ele está claramente errado, dado que ele é motivado inteiramente pelo orgulho e um desejo de vingança contra Karli.