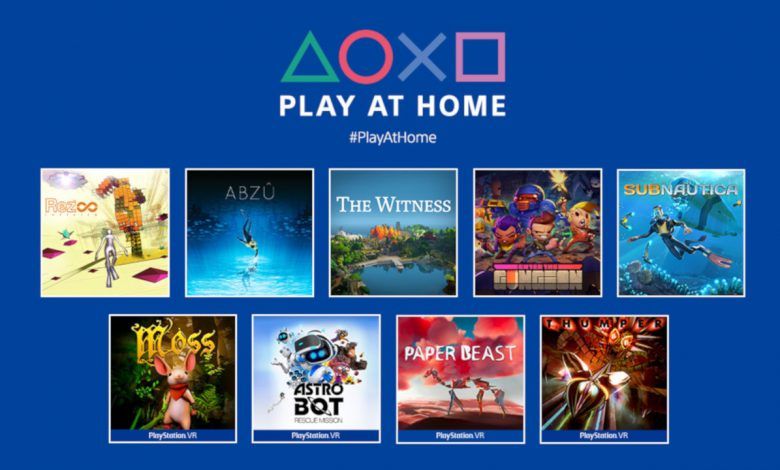 Além do título de 2017 da Guerilla Games, a iniciativa Play At Home dará aos fãs acesso a uma seleção de títulos indie na próxima semana.
A partir do final da próxima semana, os proprietários do PlayStation terão a chance de pegar uma infinidade de jogos indie gratuitos como parte da iniciativa contínua do Play At Home da plataforma, e esta rodada de jogos complementares terminará com Horizon Zero Dawn Complete Edition no próximo mês. O programa Play At Home começou no ano passado, quando a pandemia global começou a manter os jogadores cada vez mais em casa. Os dois objetivos do Play At Home, de acordo com a empresa, foram dar aos fãs do PlayStation algo para ajudar a passar o tempo e para aumentar a atenção para criadores de jogos menores e independentes que possam estar lutando.
A iniciativa começou a atingir essas metas em abril passado, quando o PlayStation deu Uncharted: The Nathan Drake Collection and Journey. Este ano, o programa Play At Home ressurgiu pouco antes da primavera, marcando quase um ano desde sua criação. O presidente e CEO da Sony Interactive Entertainment, Jim Ryan, escreveu uma mensagem aos fãs olhando ao longo do último ano e revelando que o programa teria novas ofertas para os fãs a partir de março e até junho. Catraca e Clank da Insomniac Games ficaram disponíveis para download em 1º de março e, no momento desta redação, o título ainda está disponível até o final do mês. O post terminou com a promessa de revelar novos detalhes sobre os próximos sorteios do jogo no futuro.
Novos detalhes vieram hoje no PlayStation Blog, que revelou que os jogadores poderão baixar Abzû, Enter the Gungeon, Rez Infinite, Subnautica, The Witness, Astro Bot Rescue Mission, Moss, Thumper e Paper Beast a partir de 25 de março. Os nove títulos indie, quatro dos quais são experiências vr, estarão gratuitos até 22 de abril. Os jogos que estão sendo oferecidos este mês são em grande parte títulos bem recebidos de criadores independentes que remontam ao objetivo inicial do programa Play At Home de ajudar desenvolvedores indie. Durante a janela de 25 de março a 22 de abril, os proprietários do PlayStation também estão tendo a oportunidade de experimentar uma avaliação gratuita estendida do Funimation. Em 19 de abril, poucos dias antes do fim da oferta para os nove títulos indie, os fãs do PlayStation poderão pegar horizon zero dawn complete edition gratuitamente; essa oferta permanece disponível até 14 de maio.
Enquanto os jogadores do PlayStation estão tendo acesso a dez títulos gratuitos nas próximas semanas, os proprietários do Xbox Game Pass também não estão sofrendo com os próximos jogos gratuitos. Recentemente, a equipe do Xbox anunciou que Outriders, o atirador de People Can Fly, estará chegando ao serviço quando for lançado em 1º de abril. Isso foi sugerido anteriormente pela conta oficial do Game Pass no Twitter. As notícias também caíram recentemente que a EA Play estaria trazendo sua biblioteca estendida de jogos para o Game Pass no PC.
Após as abundantes notícias do Game Pass, este anúncio da iniciativa Play At Home do PlayStation dará aos fãs do console da Sony algo para esperar. Horizon Zero Dawn é um dos principais títulos da plataforma e é um bom momento para acompanhar já que a sequência antecipada do jogo, Horizon Forbidden West,está programada para ser lançada este ano. O programa terá mais para revelar no futuro também, já que o post prometeu conteúdo até o mês de junho.