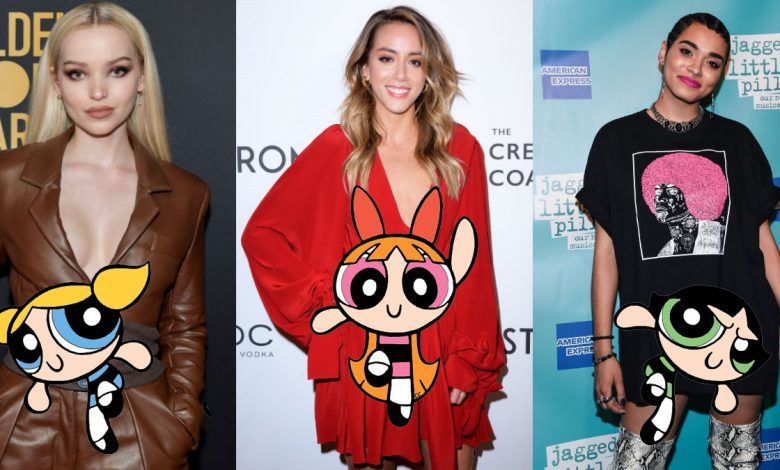 As filmagens do piloto live-action de As Meninas Superpoderosas estão oficialmente em andamento, e a The CW está compartilhando a primeira olhada no trio de personagens principais do tão esperado reboot. Florzinha, Lindinha e Docinho estão de volta em ação na The CW, interpretada nesta nova série por Chloe Bennet, Dove Camerone. Yana Perrault, respectivamente. Na tarde de segunda-feira, a emissora compartilhou o primeiro look oficial dos personagens principais, que você pode conferir abaixo.
Fotos do set de As Meninas Superpoderosas vazaram online recentemente, mostrando o trio de estrelas usando fantasias que lembram as versões mais jovens dos personagens da série animada original. Essas fotos foram reveladas agora como sendo de cenas de "flashback", lidando com a adolescência dos personagens. Eles não vão usá-los para a maior parte do show.
Além da nova foto, a The CW divulgou as descrições oficiais dos três personagens principais. Dê uma olhada:
CHLOE BENNET COMO FLORZINHA UTONIUM: Embora ela fosse uma criança corajosa, consciente e pequena-miss-perfeita que tem vários graus avançados, o trauma reprimido de Florzinha para crianças e super-heróis a deixou ansiosa e reclusa, e ela pretende se tornar uma líder novamente – desta vez em seus próprios termos.
DOVE CAMERON como LINDINHA UTONIUM: A disposição de Lindinha como uma menina doce ganhou os corações da América quando criança. Ela ainda brilha como adulta, mas seu exterior encantador desmente uma resistência inesperada e sagacidade. Ela está inicialmente mais interessada em paisagismo de sua fama do que em salvar o mundo, mas ela pode nos surpreender e a si mesma.
YANA PERRAULT como DOCINHO UTONIUM: Docinho sempre foi a rebelde das das Meninas Superpoderosas em seu auge. Mais sensível do que seu exterior duro sugere, Docinho passou sua idade adulta tentando perder sua identidade superpoderosa e viver uma vida anônima.
O piloto também é estrelado por Donald Faison como professor Drake Utonium, Nicholas Podany como Jojo Mondel, e Robyn Lively como Sara Bellum.
Heather Regnier(Veronica Mars) e Diablo Cody(Juno) estão escrevendo o roteiro para o piloto do As Meninas Superpoderosas e Maggie Kiley está pronta para dirigir. Regnier, Cody e Kiley produzirão ao lado de Greg Berlanti, Sarah Schechter e David Madden.
As Meninas Superpoderosas originais exibiram 79 episódios no Cartoon Networks de 1998 a 2005. A série foi criada por Craig McCracken e tornou-se um grampo animado para toda uma geração de crianças, juntamente com Dexter's Laboratory, Courage the Cowardly Dog, Ed, Edd n Eddy, e Johnny Bravo.
O que acha dos looks oficiais das novas Meninas Superpoderosas? Você espera ver este novo projeto pego em série? Conte para a gente nos comentários!