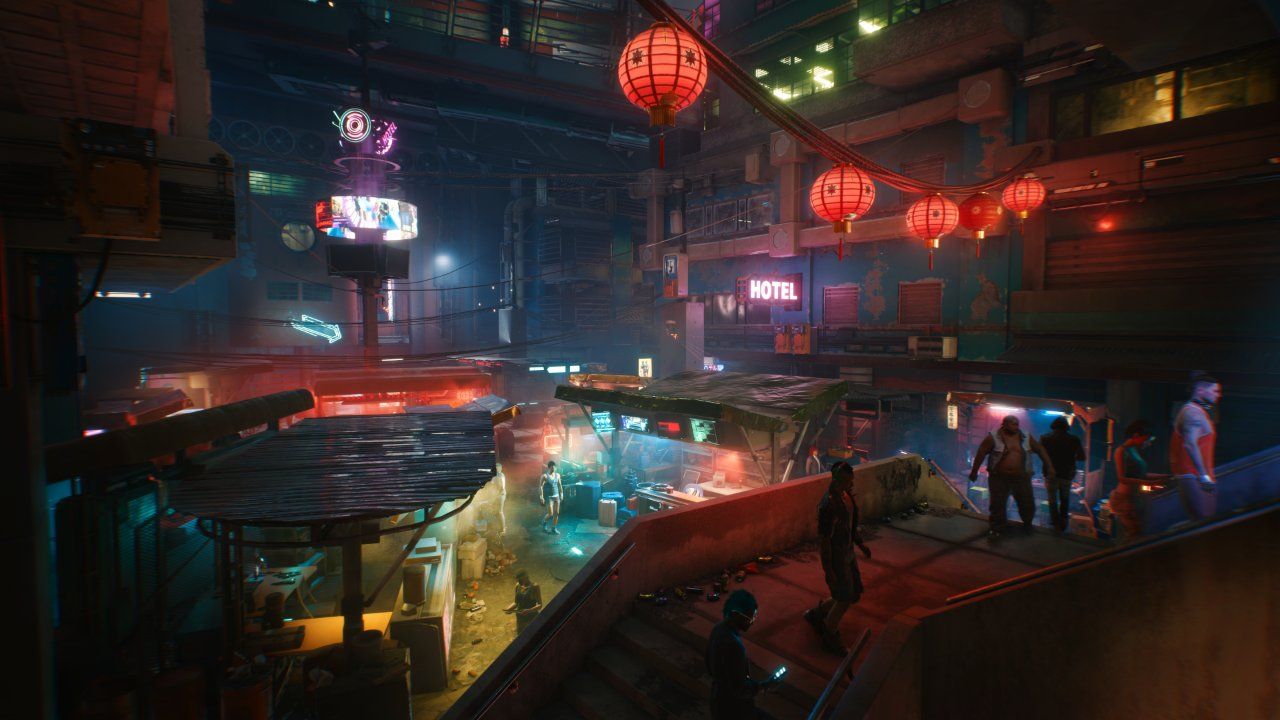 The Witcher 3: Wild Hunt foi uma joia que conquistou o coração de muitos, tanto que novas versões continuam a ser lançadas com mais um remaster a caminho dos próximos consoles da próxima geração. Assim, todos os olhos estavam certamente nos desenvolvedores, CD Projekt S.A. para seu próximo projeto – e isso foi antes de sabermos que envolveria o lendário Keanu Reeves.
Assim, a expectativa para Cyberpunk 2077 tem sido alta e felizmente para os fãs de videogames amantes da tecnologia, a espera pelo lançamento está quase no fim e em breve será capaz de explorar o mundo futurista, distópico, que foi criado para nós.
Aqui está tudo o que sabemos até agora sobre Cyberpunk 2077.
Quando é a data de lançamento do Cyberpunk 2077?
Não muito tempo para esperar agora! Cyberpunk 2077 será lançado em 19 de novembro, bem no meio da temporada de jogos deste ano. Para vocês em breve serem proprietários de consoles de próxima geração, ainda não temos uma data para isso, mas todos os sinais estão apontando para um lançamento no início de 2021.
Em que plataformas posso colocar o Cyberpunk 2077?
Cyberpunk 2077 estará disponível nos consoles de última geração do PS5 e Xbox Series X, bem como do PS4 e Xbox One, com um lançamento para PC e Stadia também confirmado.
Qual é a história de Cyberpunk 2077?
De acordo com a sinopse oficial, aqui está o que você pode esperar da história cyberpunk 2077:
"Cyberpunk 2077 é uma história de ação e aventura de mundo aberto ambientada em Night City, uma megalópole obcecada por poder, glamour e modificação corporal. Você joga como V, um fora-da-lei mercenário indo atrás de um implante único que é a chave para a imortalidade. Caminhe pelas ruas do futuro, Night City, como você escolhe entre muitos implantes cibernéticos e armas mortais para se equipar."
Sobre o Jogo cyberpunk 2077
Um jogo em primeira pessoa com muitas opções personalizáveis, V tem diferentes categorias de estatística Corpo, Inteligência, Reflexos, Técnico e Cool e como estes trabalhos serão em grande parte até quais jogadores de classe de personagem escolhem ir quando começam sua jornada. Há uma árvore de vantagens que pode ser atualizada à medida que você vai, lâminas, pistolas, espingardas e muito mais, e upgrades são feitos fazendo uma visita a um "ripperdoc" que tem muitos itens que você vai precisar que só podem ser adquiridos no mercado negro.
Curiosamente, se você se esquivar da violência que jogos desse tipo normalmente te impulsionam, Cyberpunk 2077 pode ser completado sem matar uma única pessoa. Pode ser um mundo distópico onde o público está armado até os dentes, mas você pode optar pela paz e fazer pouco mal a qualquer um enquanto você joga seu caminho.
Quanto à cidade em si, como mencionado, é um lugar violento. Mas há muito a explorar, pois há cinco regiões principais para fazer o seu caminho através, o centro corporativo da cidade, Watson, o luxuoso Westbrook, o subúrbio de Heywood, pacifica infestada de gangues, e o industrial Santo Domingo, enquanto um sexto, o sinistro chamado Badlands, também é um local que precisa de uma visita.
Devido ao grande mapa, os veículos podem ser usados para dirigir pela cidade e você terá um rádio para tornar os drives um pouco mais divertidos. Para dirigir, você será capaz de trocar para uma visão em terceira pessoa se você for alguém que luta um pouco em um carro que é conduzido de uma perspectiva em primeira pessoa.
Algo que estamos ansiosos para experimentar é chamado de "Braindance" que permite que V experimente eventos que outras pessoas passaram. Enquanto se você gosta de uma pausa da história principal e das muitas missões, há jogos paralelos como boxe e automobilismo para passar algum tempo.
E enquanto o próprio Keanu Reeves não será um personagem jogável, qualquer Keanu é melhor que nenhum Keanu, certo?
Posso fazer a pré-encomenda cyberpunk 2077?
Você certamente pode, para ambas as gerações de consoles. Amazon e Game são apenas dois dos lugares que você pode ir para ter certeza de obter uma cópia do jogo no dia do lançamento. Enquanto as pré-encomendas da próxima geração devem estar disponíveis em breve, agora que ambos os consoles têm uma data de lançamento confirmada.
Existe um trailer para Cyberpunk 2077?
Houve muitos trailers deslumbrantes para Cyberpunk 2077 e este, um dos mais recentes, destaca o que um jogo divertido e bonito parece ser.
Os requisitos do sistema Cyberpunk 2077 foram finalmente revelados, e eles são surpreendentemente acessíveis mesmo se você tiver uma máquina de nível médio a médio.
O desenvolvedor CD Projekt Red compartilhou tanto os requisitos mínimos do sistema quanto os requisitos recomendados do sistema no último episódio de Night City Wire. Aqui estão os dois conjuntos:
Requisitos mínimos do sistema Cyberpunk 2077
SISTEMA OPERACIONAL: Windows 7 de 64 bits ou Windows 10 de 64 bits
Versão DirectX: DirectX 12
Processador: Intel Core i5-3570k ou AMD FX-8310
Memória: 8GB
Placa gráfica: Nvidia GTX 780 3GB ou AMD Radeon RX 470
Armazenamento: 70 GB HDD (SSD recomendado)
Cyberpunk 2077 requisitos recomendados do sistema
SO: Windows 10 de 64 bits
Versão DirectX: DirectX 12
Processador: Intel Core i7-4790 ou AMD Ryzen 3 3200G
Memória: 12GB
Placa gráfica: Nvidia GTX 1060 6GB ou AMD Radeon R9 Fury
Armazenamento: SSD de 70 GB
Isso é muito mais modesto do que eu esperava! Especialmente em termos de GPU, que não está nem perto de exigir as novas e brilhantes placas Nvidia GeForce RTX 3000, e o espaço do disco rígido. Houve atualizações de Call of Duty: Warzone que eram quase tão grandes quanto todo o jogo Cyberpunk 2077.
É certo que você ainda terá visuais e desempenho ainda melhores se o seu PC exceder essas especificações. Por exemplo, sabemos que cyberpunk 2077 capitalizará os efeitos gráficos Nvidia GeForce RTX, já que o jogo ganhou um belo trailer mostrando seu desempenho na nova série GeForce RTX 3000. Reflexos traçados por raios em superfícies brilhantes, halos lindamente confusos em torno de fontes brilhantes de luz neon, e mais todos esperam se você está jogando com uma placa RTX.
Para sua referência, estas são as especificações da máquina que a CD Projekt Red usou para executar sua grande demonstração E3 2018:
CPU: Intel Core i7 8700K a 3.70GHz
Placa-mãe: Asus ROG Strix Z370-I Gaming
RAM: 32GB de G.Skill Ripjaws V DDR4 RAM com uma velocidade de 3.000MHz
GPU: Nvidia GeForce GTX 1080Ti
Armazenamento: Samsung 960 Pro 512GB SSD
PSU: Fonte de alimentação Corsair SF600W
Você será capaz de fazer missões ou apenas tomar bebidas com um monte de companheiros Cyberpunk 2077 – embora alguns deles provavelmente acabarão querendo você morto.
Novas Imanges do Jogo